Original beaded butterfly design is based on Nancy's great grandmother's original Victorian beaded butterfly.
Mom, Dawn,
Great Grandma, Grandpa,
Byrle & Nancy
(circa 1960)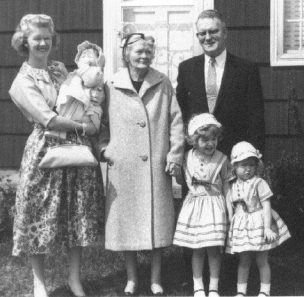 Thank you for your interest in my designs. I am indebted to my mother, Elaine Bombero, who introduced me to seed bead artistry. As a child, she duplicated an antique pin her grandmother, Ida Swanson Philipp kept on a curtain in her home in Baltic, Connecticut decades ago.

Mom is unsure how old the original pin was. She made and sold several of her own in the 1940's. We have never seen anything like it elsewhere. We are glad to share this and other beautiful designs with you for your pleasure.

If you make my designs or adaptations of them in quantity, please include in writing with each butterfly: "Awesome Butterflies, designed by Nancy Bombero Berntsen, ©1997, 2000." [Minor adaptation(s) of a design for any purpose does not protect one from plagiarism.]

General beading tips and an order form for designs, refills and supplies is included for your convenience. You may make copies of the order form as needed/desired.

Joyous beading!