Home
Up
The First Awesome Butterfly
Beloved Butterfly Stories!
Beaders' Resources
Nancy's Friends Page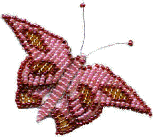 One of Nancy's favorite Victorian wire and seed bead butterfly creations, like her great-grandmother's original.
Under development:
Nancy's Dazzling Dragonflies!
Shopping Cart for Nancy's Awesome Butterflies
Email Me!
nancyb[at]awesomebutterflies.com
Peter's Awesome Beaded Bible Bracelets and Chokers!

Supplies needed:

7 E-beads or 6/0 or larger seed beads or 7 pony beads, one each of the following colors:

Black
Red
White
Green
Blue
Purple
Yellow

String, twine, or a strip of leather lacing, enough to tie as a bracelet or choker. Allow an extra 6 inches for knotting and cut shorter later if desired.

Directions:

String on each of the colored beads in the order listed.

Tie a half knot on each end of the string as shown to prevent beads from slipping off. Tie knots on the ends of the string too, to prevent unraveling.

You're done! Now look up the Bible verses that correspond with each bead. Try to see why the color goes with the verses.

Instructions are by Nancy Berntsen, owner, artisan of Awesome Butterflies, 1017 Howe Ave., Shelton CT 06484-2326. http://awesomebutterflies.com Email:

Check out the Victorian beaded butterflies! They are great for gifts, science projects, suncatchers, mobiles, pins, barrettes, earrings, magnets, ornaments, and more! Finished butterflies and pattern kits available.